Video Lessons Available now!

Welcome to Drum Lessons in Brighton

- Introductory lesson just £20

- All ages and abilities - beginners welcome
- Structured, tailor made lessons
- All styles and genres
- Flexible, weekly lessons times

- Great locations in Brighton

- Grades 1-8 available

Learn to play the drums!
I am a BA graduate and professional drum tutor. I offer one to one private tuition whether you are a complete beginner or a seasoned professional. It's never to late to learn!

My aim is to make people feel comfortable and creative, in lessons and behind the drum kit. I believe learning drums should be fun and rewarding for anyone, and use a wide range of approaches and material, including nationally recognised programmes such Rockschool and Drumsense, rudiments study, and drumming styles. Each lesson plan is designed specifically for the individual, so you can achieve your goals.
Please get in touch with any enquiries at the BOOK A LESSON page.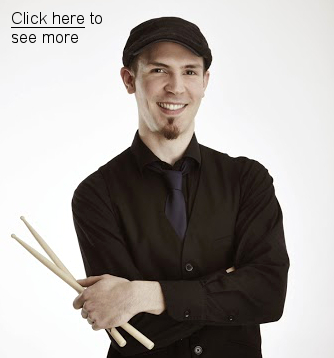 "Robbie has made my lifelong ambition to learn the drums a pleasure through his friendly, patient, and above all, fun and enjoyable approach to teaching. I would recommend Robbie to anyone who wants to learn the drums with a smile on their face" - Paul Carnell, Brighton
"Robbie is an excellent drum teacher. He is patient, kind, encouraging, flexible and goes the extra mile in helping you be the best drummer you can be" - Ben Goodyear, London
"I was impressed by Robbie's professional approach and infectious enthusiasm for music and drumming. He takes the time to understand what students want to achieve and tailors his approach accordingly." - Nick Ambrose, Saltdean
See more
testimonials
www.robbiehookins.com www.brightondrumlessons.com Drum Lessons in Brighton, East Sussex
copyright 2020 drumlessonsinbrighton.co.uk / Robbie Hookins. All rights reserved.